Developments That Make a Difference: What We're Doing In Order To Make Better Looking & Higher Quality Steel-Windows & Doors
Advertorial, By TUVAL-MINIMAL
It's All About Size – Large Windows & Narrow-Sight-Line
The hottest and most dominant trend in the world of luxurious construction projects these days is undoubtedly large, wide windows which create the perfect connection between indoors and outdoors. The demand for these windows by leading Architects has risen, since they value the unique illumination natural light provides for the house interior.
Along with the demands for wider openings comes the need for a thinner profile, which creates a clean vibe that doesn't block out the view.
Windows with a classic design, characterized by many divisions, require excessive attention to the thickness of the profile. Slim Profile Windows enable flexibility in design and maintain a clean and optimal appearance.
Steel's main advantage is its strength and resilience compared to other materials such as aluminum, wood or PVC. This enables manufacturing of very large window profiles with a thin and sleek look, allowing minimalistic planning and almost unlimited artistic freedom on the Architect's end.
Slim Profiles, Superb sealing
Most Steel Frame Windows manufacturers offer the W-20 profile developed around 100 years ago, with its strength being its main advantage. But this advantage unfortunately comes with some disadvantages, such as being thick and coarse. 
Tuval has acquired its expertise in creating the highest quality of Steel Frame Windows from the new series of the Swiss manufacturer, Montanstahl. This new series includes especially slim profiles with double-rubber sealing. While W-20 profiles have only one rubber sealer on the window wing, this new series has enhanced sealing on both frames. This double weather-stripping improves durability against air and water, and lowers heat conductivity between the outer side of the window to its inner side, enhancing the window's thermal performance.
Advanced Rust protection – Zinc Metalizing 
Humidity, heat and proximity to the sea create tough climate conditions that may accelerate rusting processes. This is one of the main reasons why cheap production has created a bad reputation for Steel-Windows.
Professional coating of the steel ensures full protection from rust, and enables sheer enjoyment of the product's unique advantages.
In order to promise the perfect protection for years to come, Tuval applies an advanced and expensive galvanization process called Thermal-Spray, Zinc Metalizing. As opposed to regular electrostatic galvanization, the Thermal-Spray (of the melted Zinc) creates a thicker coating layer, which covers the entirety of the product's surfaces, including corners and welding points.
Alongside our Steel Frame Window's elegant and design apparel, we strive to create comfortable and easy to use operational solutions. Each and every window is planned specifically per project, so that both its apparel and technical attributes can be matched upon request.
Tuval has developed a number of mechanisms that enable the optimal combination of design, easy operation and lifelong reliability. For example, we offer advanced multi-point locking mechanism, custom-made hinges with a minimalistic profile, a unique system for sliding Steel Frame Windows, Bi-Fold solutions, and more.
We at Tuval are working around the clock on new improvements and additions to our products. This is how we promise our customers and architects the most advanced and exclusive solutions on the market.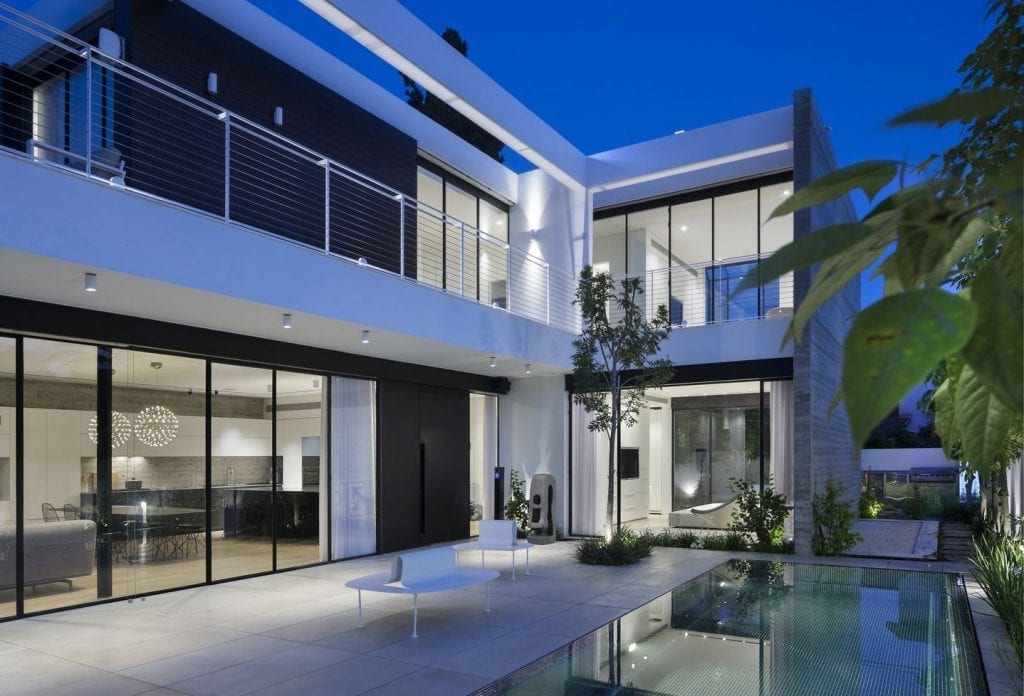 Tuval-Minimal Steel-Windows are considered to be the most advanced and qualitative of their kind, with a record of two decades of manufacturing and installation of Steel-Windows & Doors
Steel Windows & Doors are of the highest quality and rust resistant for years. The unique and advanced production and finishing processes include an exclusive galvanizing method through spraying hot zinc; thus ensuring the quality and durability of the products for many years
A ideal solution tailored for the specific characteristics and constraints of each Project. Custom design with full flexibility to define desired style and dimensions.
Variety of hot-rolled steel profiles models. Supporting various types of profiles: W500, W500FR, W20, W40, and more.
Ease of use and durability without need of maintenance. Broad portfolio, variety of operational solutions, including Folding and Sliding systems.
office@tuvalminimal.com
Tel: +972-9-8987492